Change Metro UI Language in Windows 8
Windows 8 CP | 12-03-2012
---
Some of your Metro Applications are in German? It's because your default language isn't supported and you have deleted all other languages from your system. In that case Windows 8 Consumer Preview will choose German language as default for Metro apps. To choose other, for example english, you have to add that language. Run Metro and type "add language". Choose language you want and add it.
Join few RSS feeds into new one
RSS | 11-03-2012
---
You can join few RSS feeds very easily by using
rss mix
. Simply copy-paste rss urls you want to join and click Create. You will be moved to your new RSS which you can subscribe.
RssMix unfortunately has problems with polish encoding. After search I have found
Yahoo! Pipes
. It works perfect is very easy and has more functionality which can be used in future. Yahoo! Pipes require logging in but except Yahoo! account you can also log in using Google and Facebook accounts.
After logging in click Create Pipe. To add RSS feeds drag and drop Fetch Feed block from Sources Panel on the left. To one Fetch Feed you can add only 10 RSS feeds but you can add few Fetch Feeds and union them together. To be sure Yahoo! joins that pipes in correct order I added Sort operation and sort joined pipes descending by publish date.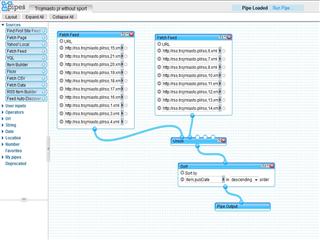 You can check output of your pipe clicking on Pipe Out block. There's even a debugger!
When your pipe is done save it and click Run Pipe on the top of the page. Yahoo will take you to your Pipe Page. There should be RSS button which will take you to your new RSS page.
Installing Epu-6 Engine on Windows 8 CP x64
Windows 8 CP 64-bit | 07-03-2012
---
Yes, I made it and it works!
I used version 1.03.04 from
here
but this solution should work for other versions of Epu-6 Engine and TurboV.


After unzip run Setup.exe as administrator in compatibility mode for Windows 98 / ME (all other options will end up with failure)


Unfortunately setup won't install all necessary components so we must do it manually. Go into "Io" folder and run AsIoIns.exe as administrator in compatibility mode for Windows 98 / ME. To be sure it installed proper driver you can also run it in compatibility mode for Windows 7


Next go to AsSysCtrlService folder and run AsSysCtrlSrvcIns.exe and AsSysCtrlService.exe in compatibility mode for Windows 98 and then for Windows 7 as administrator.


YOUR WINDOWS WILL RESTART AUTOMATICALLY WITHOUT PROMPT AFTER THIS STEP SO SAVE ALL YOUR WORK! From Acpi64 folder (Acpi for x32 windows version) run AsAcpiIns.exe in compatibility mode for Windows 98 and then for Windows 7 as administrator


Now after windows restart you should have working Epu-6 Engine. Overclocking, declocking and especially fans speed control works very well.
Edit: According to HRC and beck comments below doing this tip with 2-3-4-1 step sequence in some cases can give better results.
Edit2: Lion Smith made a repack of this utility. According to comments below it works. You can find it
here
.
Lightbox. DispatchEvent function Error.
Lightbox 2.0 | 19-02-2012
---
This error prevent Lightbox from proper displaying and can occur while your lightbox scripts are called after some jQuery's scripts.

Solution to this situation is to move your lightbox scripts after all other scripts.
Lightbox with MVC. File not found.
Lightbox, MVC3 | 01-02-2012
---
When using Lightbox with MVC its scripts can cause System.Web.HttpException "File does not exist". It is because lightbox.js not always can resolve paths to loading.gif and closelabel.gif correctly. For example everything is fine when url is like /Home/Index. In that case Lightbox script will resolve path correctly: /Content/themes/lightbox/loading.gif. But if url is like /Home/Index/2 then the resolved path will be like Home/Content/themes/lightbox/loading.gif.
There are few solutions to this situation, you can read about them
here
. The easiest one is to declare two javascript globals to both gifs in your _Layout.cs:
<

script

 

type

="text/javascript"

>


    @*Global paths Lighbox Images*@


    var

 fileLoadingPath = 

'@Url.Content("~/Content/themes/lightbox/loading.gif")'

;


    var

 fileBottomNavClosePath = 

'@Url.Content("~/Content/themes/lightbox/closelabel.gif")'

;


</

script

>
Then your config section in lightbox.js and lightbox-web.js should start like this:
LightboxOptions = Object.extend({
    fileLoadingImage: fileLoadingPath,
    fileBottomNavCloseImage: fileBottomNavClosePath,